Donor Information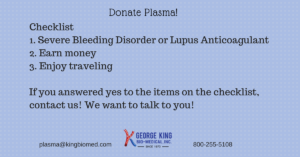 Do you have a coagulation deficiency or rare bleeding disorder?
Qualified patients may benefit from plasma donation through George King Bio-Medical's donor program. Physicians, medical technologists, and most importantly, patients rely on accurate laboratory results. Despite industry's best efforts to create synthetic material, the ideal source for coagulation factor deficient plasmas and the related controls is human plasma.
Contact us for further information about our donor program.
What do our donors say?
Being a donor for George King Bio-Medical, Inc has been a very good experience. The people at the company are irreplaceable, making the travel plans, clinic scheduling, and timely payments seamless. Most importantly, they genuinely care for their donors and reach out in meaningful ways to assure that their donors are well looked after and that donors' health is the company's primary concern. Whether it is staying in first-rate hotels, eating exceptional post-draw lunches, flying on the flights that best fit your schedule, or getting to and from the draw centers comfortably, the people at George King go the distance to make the donor experience the best it can be. The donors are also compensated well. The money I have received for donating over the years has enabled me to save for rainy days and even take a few great vacations. What are you waiting for? Contact them today for more info.
J.S.
I have been a donor for George King Bio-Medical for several years, and they have been a wonderful company to work with. I found them through the APSFA website, and was able to become a donor because I have APS with a positive lupus anticoagulant. From my first donation, and every time since, George King Bio-Medical – especially Kari P., has been so incredibly helpful and patient in working with my schedule and setting up my donation trips so that I don't have to worry about anything. Because of the distance between where I live and the location of the donation center, George King Bio-Medical covers the cost for my travel, meals, and lodging, and also reimburses me for my plasma… all I have to do is show up for a couple hours to complete the donation process.

Obviously the financial compensation is great and has allowed me to be able to finance trips and home repairs that otherwise I would not have been able to afford. But more than that, It is nice to feel that I am helping other people who may have APS or other rare autoimmune disorders. After having so many health and medical problems due to my APS, George King Bio-Medical has shown me that there can be something positive that comes out of having APS too.

George King Bio-Medical goes above and beyond when it comes to treating their donors well, they even send me a tin of yummy cookies every Christmas… talk about spoiled! I am blessed to have found this company and hope to be able to continue working with George King Bio-Medical for many years to come.
H.A.