Product Details
Product Analytical Measurement Range Coagulation Assay Kit
---
Product No 0014-30
Size 30 x 1 mL vials
---
Analytical Measurement Range Coagulation Assay Kit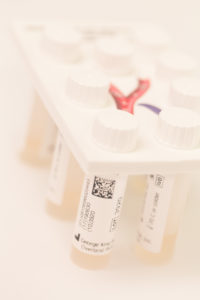 Thank you for your interest in the AMR Coagulation Kit.  We are excited about this kit and the benefits it offers your laboratory.
The AMR Coagulation Kit includes three levels of assayed plasmas:
Normal range
Mid range
Low abnormal range
The kit includes assay values for the following analytes requiring AMR testing:
ATIII (Antithrombin)
Chromogenic FVIII
Plasminogen,
vWF antigen,
Protein C Antigen
Protein S Antigen
Chromogenic Protein C
Assay values accompany each order.  These plasmas may be used to meet the guidelines recently added to the CAP Hematology and Coagulation Checklist. This set offers 30 x 1 mL vials with multiple assay levels in a conveniently prepackaged kit.  The plasmas are fresh frozen and ready to use.